Marketing
·
Time Out Market Cape Town
Events Co-ordinator Time Out Market

Title: Events Co-ordinator
Location: Cape Town
Department: Marketing 
Reporting to: Marketing Manager

About the role
We love what we do – and it shows! Time Out Market is the division of Time Out that brings our food and cultural experiences to life for our guests, readers and clients
The Event Coordinator will be responsible for managing the Time Out Market consumer experience, both in the daily operations of the Market and by the planning and execution of live events. The Event Manager will work closely with the Cape Town team and teams across the globe to ensure the Market is in alignment with brand goals and event execution


Key Responsibilities

Create event proposals, covering timelines, production costs, potential vendors, staffing needs, and budget parameters
Create and manage monthly entertainment and event budgets that drive revenue and ensure maximum guest and property benefit
Manage Time Out Market Cape Town event schedule
Manage daily, weekly, and monthly entertainment as defined and developed with property GM and Time Out Digital editor
Manage day-of responsibilities for Time Out Market Cape Town events, including logistics, collateral production, layout/flow, contact lists, and other materials as needed
Accommodate and anticipate guest needs
Hire, train, and supervise event personnel, delegating responsibilities as needed to ensure event success
Operate with an open-door policy, listen to and understand requests of the team and our guests, respond with appropriate actions, and provide accurate information
Manage wrap-up event needs, including analyzing event performance, surveying customers on their experience, and ensuring all invoices are submitted for payment
Evaluate annual local events and determine Time Out Market's participation and cost benefits


Skills & Experience

3-5 years in a similar role required, preferably within the hospitality industry
Proficient in Windows MS Office
Proficient in Google Suite
Demonstrated experience managing budgets, event staff, clients and relevant stakeholders
Previous experience in event planning and sponsorship activation required
Ability to work nights/weekends as essential
Ability to work as a team, stay organized, handle various projects at one time, lead others, delegate
Ability to communicate effectively and assertively in the English language, both verbally and in writing with staff, clients, and the public
Ability to speak to guests fluently regarding the food, beverage, and overall concept
Ability to demonstrate and impose upon service staff the ability to service guests with the utmost care, service and excellence, utilizing the highest standards of service techniques
Ability to take action based on previous experience, follow up and make accurate and sound decisions
Interact with all department personnel, Market and vendor staff as needed
Maintain positive and professional relations with vendors
Monitor guest satisfaction on all levels
Take ownership of event booking manage platform
Strong problem-solving skills with the ability to think on your feet
Ability to maintain a high level of confidentiality
Ability to write reports, business correspondence and procedure documents for event related activities
Ability to demonstrate a positive attitude always; as well as keep an open and objective view

What we look for in a candidate
Time Out is a company filled with individuals as diverse as the cities we live in and cover. At the same time there are common characteristics and values we all share. To join our team, you'll want to… 
Be commercially astute
Either have experience at or want to dive headfirst into a fast-paced transformative company in pursuit of excellence
Think globally
Have excellent communication and relationship building skills
Have a high sense of ownership, urgency and drive
Be a team player
About our culture

At Time Out Group we believe in diversity and equal opportunity for all people. We do not discriminate against external or internal candidates on the basis of age; disability; gender, gender reassignment; race; religion or belief; sexual orientation; marriage and civil partnership; pregnancy and maternity. We believe that diversity develops creativity and enables personal and professional growth where we all learn from each other. We believe in an open culture where ideas are shared candidly and where there is no fear of failure, but rather an understanding that we must experiment and have the freedom to succeed. We believe that everyone has the right to express themselves as they are as this enriches us all. We believe in an open world, social justice, and the pursuit of happiness, after all, we are in the happiness business.


About Time Out Group plc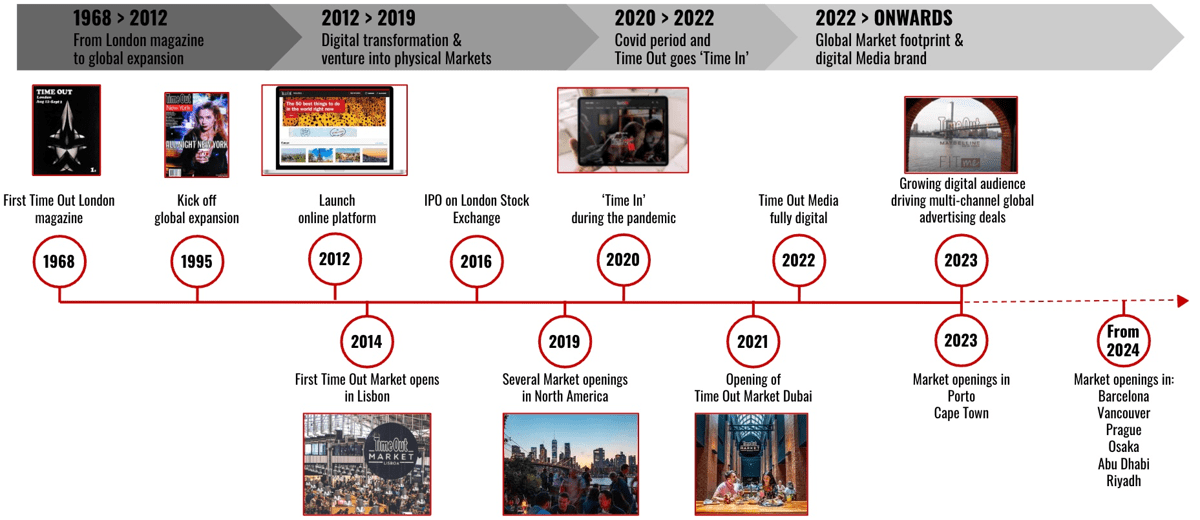 Time Out Group is a global media and hospitality business that inspires and enables people to explore and enjoy the best of the city.
It all began in London in 1968 when Time Out helped people discover the exciting new urban cultures that had started up all over the capital. Since then, this iconic brand has consistently maintained its status as the go-to source of inspiration for both locals and visitors alike.
Time Out Group has been named one of the Most Innovative Companies for 2020 by Fast Company - this prestigious annual list honours the businesses making the most profound impact on both industry and culture, showcasing a variety of ways to thrive in today's fast-changing world. The Group comprises two highly synergistic business divisions: Time Out Media and Time Out Market.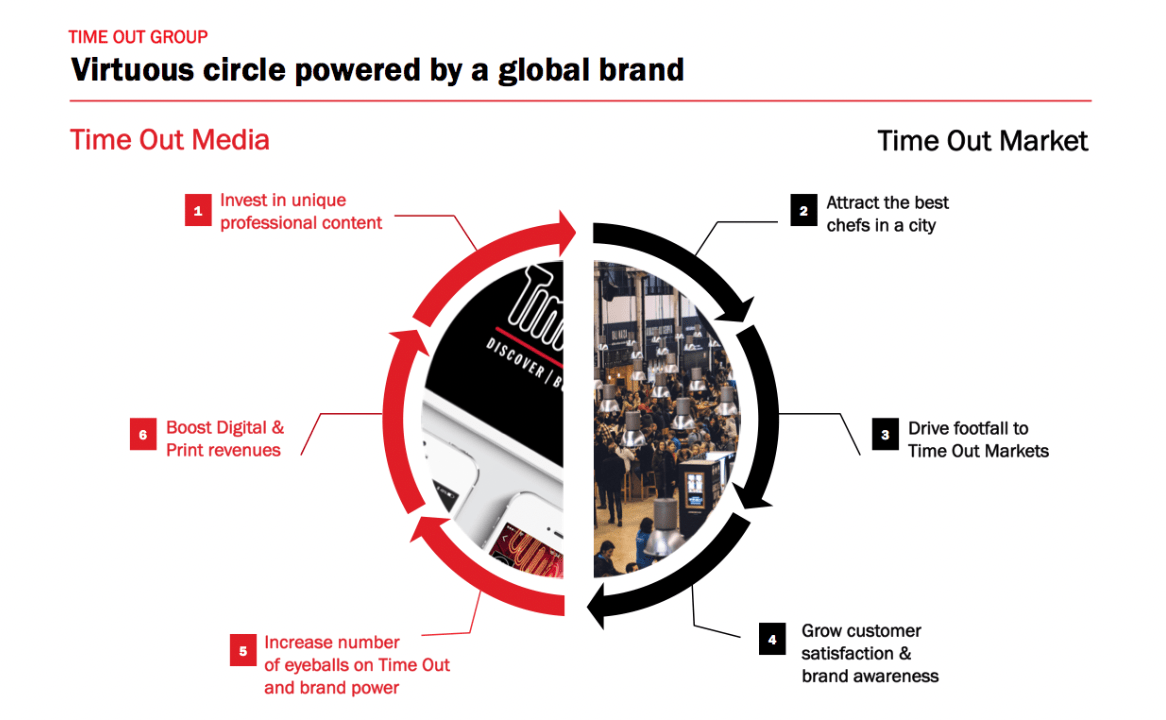 Time Out Media's digital and physical media proposition comprises websites, mobile, social media, print and live events. Across these platforms, Time Out distributes its high-quality content – written and curated by local expert journalists – around the best food, drinks, culture, art, music, theatre, travel and entertainment in 328 cities and 58 countries. The Company is monetising this global reach and its strong traffic from a desirable audience via digital and print advertising as well as e-commerce. Since its launch 50 years ago, Time Out has become a global brand that advertisers and consumers love and trust.

Time Out Market is a food and cultural market leveraging the Time Out brand to bring the best of the city under one roof: its best chefs, drinks and cultural experiences – based on the editorial curation Time Out has always been known for. The world's first food and cultural market experience based wholly on editorial curation, Time Out Market captures decades of local knowledge, independent reviews and expert opinions. Everything that is being offered in Time Out Market must have been reviewed with four or five stars, and not one star less, by independent Time Out journalists.
The first Time Out Market opened in Lisbon in 2014 and is now Portugal's most popular attraction with 4.1 million visitors in 2019. Following this success, four new Time Out Markets opened in North America in 2019 in New York, Boston, Montréal and Chicago, and we recently celebrated the opening of Time Out Market Dubai in April 2021. A further pipeline of other global locations includes Porto, Barcelona,Prague, Abu Dhabi, Cape Town and London.

Time Out is a dynamic, pioneering brand and so is our team. We want to work with the best and brightest talent because we work for the world's greatest cities, the people enjoying them and the businesses in them. As a truly global team we get to collaborate with colleagues from New York to Paris, Tokyo and Sydney and beyond. It's our integrity, passion, curiosity, creativity and openness that make us successful and a unique team.
Department

Marketing

Role

Markets

Locations

Time Out Market Cape Town

Monthly salary

ZAR20,000 - ZAR25,000
Time Out Market Cape Town
Work perks
Competitive holiday / PTO allowance 🏖

Pension / 401K 👍

Complimentary tickets to events and shows 🎟

Staff socials & happy hours 🍕

Employee Assistance programmes ❤

Cycle to work schemes 🚲

Perk Box, giving you access to over 4000 perks and discounts 🎁
Workplace & culture
It's your talent that makes us what we are and we want you to be the best you can be. Our aim is to make sure our workforce reflects the diversity of our audience we serve, which is why we promise to treat you with fairness and respect, whatever your age, disability status, gender, gender reassignment, race, religion or belief, sexual orientation, marriage/civil partnership status, pregnancy or maternity status and family circumstances.
We believe that diversity develops creativity and enables personal and professional growth where we all learn from each other. We believe in an open culture where ideas are shared candidly and where there is no fear of failure, but rather an understanding that we must experiment and have the freedom to succeed. We believe that everyone has the right to express themselves as they are as this enriches us all.
We believe in an open world, social justice, and the pursuit of happiness, after all, we are in the happiness business.
Marketing
·
Time Out Market Cape Town
Events Co-ordinator Time Out Market
Loading application form
Already working at Time Out Group Plc?
Let's recruit together and find your next colleague.