Time Out Markets
·
Time Out Market Montréal
Bar Manager Montréal

Location: Montréal, Québec
Department: Time Out Market
Reporting to: Directeur général adjoint
Aperçu du rôle
Nous aimons ce que nous faisons – et ça se voit ! Time Out Market est la division de Time Out qui fait vivre notre cuisine et nos expériences culturelles pour nos invités, lecteurs et clients.
Le gérant du marché est aux commandes pour s'assurer que le meilleur de la ville sous un seul toit offre à chacun de nos invités et aux membres de notre équipe une
expérience mémorable à chaque visite.


Responsabilités
Maintenir les normes les plus élevées de qualité des boissons, de service aux invités, de contrôle des coûts et d'uniformité conformément aux attentes de l'entreprise, tout en maintenant le respect des lois municipales, provinciales et fédérales
Mettre l'accent sur la gestion de la relève, la formation et le perfectionnement de tous les employés du bar
Déléguer la responsabilité à l'équipe de gestion au besoin et appliquer les politiques existantes de façon uniforme
Superviser et participer à l'embauche, à la formation, à la supervision, à l'encadrement, aux conseils et à l'évaluation de tous les membres de l'équipe du bar
Promouvoir l'organisation dans l'industrie et/ou les associations professionnelles
Travailler en étroite collaboration avec le directeur général, les relations publiques et l'équipe de marketing, sur des plans qui permettent une reconnaissance optimale et maximisent le nombre de publicités pour le marché
Protéger et accroître la valeur de tous les actifs du bar grâce à des programmes appropriés d'entretien, de sécurité et d'entretien ménager.
Faire l'horaire hebdomadaire et la paie du personnel horaire
Tenir des réunions avant chaque quart de travail et aider les membres de l'équipe pour toute demande
Élaborer et mettre en œuvre des normes d'exploitation, des politiques et des procédures à suivre par l'équipe de gestion
Assigner les employés à leurs tâches travail et leur donner des instructions. Observer le rendement et encourager l'amélioration au besoin. Veiller à ce que les outils d'évaluation du rendement soient utilisés de façon uniforme et efficace
Utiliser une politique de porte ouverte, écouter et comprendre les demandes de l'équipe, prendre les mesures appropriées et fournir des renseignements exacts
Veiller à ce que les niveaux d'inventaire appropriés soient maintenus pour faciliter le bon fonctionnement des bars, établir et appliquer des contrôles stricts des stocks et participer aux rapprochements mensuels des stocks en collaboration avec les équipes des achats et des finances
Prendre des décisions et prendre des mesures fondées sur l'expérience antérieure et le bon jugement, en révisant les procédures au besoin pour tenir compte des situations inhabituelles
Interagir avec tout le personnel du service, du marché et des concessionnaires, au besoin.
Veiller à ce qu'aucun membre du personnel ne soit autorisé à travailler s'il n'est pas habillé ou soigné convenablement
Élaborer et mettre en œuvre des mesures de réduction des coûts et d'amélioration des bénéfices
Créer et exécuter des plans d'action pour les secteurs qui ont besoin d'amélioration ou qui se trouvent dans une situation critique
Maximiser la rentabilité des bars; surveiller l'utilisation des contrôles pour s'assurer qu'ils demeurent efficaces
Surveiller les coûts de la main-d'œuvre et surveiller le budget du bar pour s'assurer que les opérations sont efficaces, y compris l'atteinte des revenus budgétés et les dépenses de main-d'œuvre.
Surveiller la satisfaction des invités à tous les niveaux, y compris les plateformes de médias sociaux
Veiller à ce que les exigences en matière de santé, de sécurité et d'hygiène soient conformes aux exigences du ministère de la Santé, du MAPAQ et des organismes municipaux ou provinciaux et veiller à ce que tous les gestionnaires soient au courant des changements apportés à la loi.
Participer à l'élaboration du budget annuel pour l'ensemble du marché; élaborer des plans d'exploitation financiers à court et à long terme
Participer à des événements communautaires et veiller à ce que les objectifs de responsabilité sociale de l'entreprise soient atteints.
Maintenir une apparence professionnelle soignée qui respecte les normes de l'entreprise
Exigences générales
Preuve d'admissibilité à travailler au Canada.
Formation:
Diplôme d'études secondaires requis. DEC ou Diplôme universitaire de premier cycle souhaitable.
Connaissances pratiques :
Minimum de deux à trois (2-3) ans d'expérience en supervision de bar
Compétences supérieures à la moyenne en mathématiques et en équations algébriques et en pourcentage
Maîtrise de Windows Microsoft Office, systèmes POS


Compétences:
Maîtriser fortement la résolution de problèmes
Capacité de donner l'exemple
Capacité d'agir toujours de façon professionnelle
Capacité de communiquer efficacement et avec assurance en français et en anglais, de vive voix et par écrit avec le personnel, les clients et le public
Capacité de maintenir un niveau élevé de confidentialité
Capacité de rédiger des rapports, de la correspondance d'affaires et des manuels de procédures
Capacité de toujours démontrer une attitude positive
Capacité de garder une vision ouverte et objective
Aptitude à écouter avec empathie et respect
Capacité de garder son sang-froid et de rester concentré
Capacité de maintenir son intégrité personnelle
Capacité de travailler en équipe, de rester organisé, de gérer divers projets en même temps, de faire un suivi et de prendre des décisions précises
Capacité de gérer un environnement qui évolue rapidement, qui est occupé et qui est quelque peu stressant
Capacité de travailler sous pression et de respecter les échéances

Cadre et horaires de travail
Les caractéristiques du cadre de travail décrites ici sont représentatives de celles qu'un employé rencontre dans l'exercice des fonctions essentielles de ce poste. Des mesures d'adaptation raisonnables peuvent être prises pour permettre aux personnes handicapées de s'acquitter des fonctions essentielles du poste.
Bureau de taille moyenne.
Environnement de restauration.
Le niveau de bruit dans ce cadre de travail est généralement modéré. À l'occasion, le candidat devra travailler dans un environnement soumis à différents niveaux de bruit et d'encombrement – en fonction du nombre de clients.
Horaires de travail variés, y compris le jour, le soir, les fins de semaine et les jours fériés.


Ce que nous recherchons chez un candidat
Time Out est une entreprise au personnel aussi divers que les villes dans lesquelles nous vivons et que nous couvrons. Par ailleurs, nous avons des caractéristiques et des valeurs communes. Pour vous intégrer dans notre équipe, vous voudrez....
Être commercialement astucieux
Avoir de l'expérience ou être prêt à plonger tête la première dans une entreprise numérique au rythme rapide.
Avoir d'excellentes aptitudes à la communication et aux relations.
Avoir un sens aigu de l'appropriation, de l'urgence et du dynamisme.
Culture adaptée
Time Out Group croit en la diversité et en l'égalité des chances pour tous. Nous ne faisons pas de discrimination à l'égard des candidats externes ou internes sur la base de l'âge, du handicap, du changement de sexe, de la race, de la religion ou des croyances, du sexe, de l'orientation sexuelle, du mariage et du partenariat civil, de la grossesse et de la maternité. Nous croyons que la diversité favorise la créativité et permet une progression personnelle et professionnelle où nous apprenons tous les uns des autres. Nous croyons en une culture ouverte où les idées sont partagées franchement et où il n'y a pas de peur de l'échec, mais plutôt une compréhension que nous devons expérimenter et avoir la liberté de réussir. Nous croyons que chacun a le droit de s'exprimer tel qu'il est, car cela nous enrichit tous. Nous croyons en un monde ouvert et à la poursuite du bonheur, car après tout, nous travaillons dans le secteur du bonheur.
Aperçu de l'entreprise – Time Out Market
Time Out Market, qui fait partie de Time Out Group plc, réunit le meilleur de la ville sous un même toit, avec ses meilleurs restaurants, bars et expériences culturelles, basés sur l'éditorial Time Out qui a toujours été connu. Premier marché culinaire et culturel du monde basé entièrement sur la curation éditoriale, Time Out Market saisit des décennies de connaissances locales, des revues indépendantes et des avis d'experts. Tout ce qui est offert dans Time Out Market doit avoir été noté avec quatre ou cinq étoiles, et pas une étoile de moins, par des journalistes indépendants Time Out.
Le premier Time Out Market a ouvert en 2014 dans une halle de marché historique à Lisbonne, se transformant rapidement en la destination la plus populaire de la ville avec 4,1 millions de locaux et de touristes en visite en 2019. Le succès de Lisbonne a entraîné une nouvelle expansion en Amérique du Nord, Time Out Market ouvrant dans cinq grandes villes en 2019 : Miami, New York, Boston, Chicago et Montréal. En 2021, Time Out Market s'est étendu au Moyen-Orient avec Time Out Market Dubaï, et d'autres sites Time Out Market sont en préparation, notamment Porto, Londres, Prague et le Japon.

Le groupe Time Out a été nommé marque internationale de l'année 2021 dans le cadre des Campaign Publishing Awards - récompensant la bravoure, l'innovation éditoriale et la réflexion prospective. Time Out Market a remporté le prix du concept de restauration et de boisson le plus innovant lors des Global RLI (Retail & Leisure International) Awards 2021.
À propos de Time Out Group plc
Time Out est le leader mondial des médias et du divertissement qui inspire les gens et leur permet de profiter au maximum d'une ville.
Tout a commencé en 1968 à Londres quand Time Out a aidé les gens à explorer les nouvelles cultures urbaines passionnantes qui avaient démarré partout dans la capitale. Depuis lors, cette marque emblématique a toujours maintenu son statut de source d'inspiration pour les habitants et les visiteurs.
Aujourd'hui, la présence numérique et physique de Time Out comprend les sites Web, les mobiles, les médias sociaux, les magazines, les événements live et les Time Out Market. À travers ces plateformes, Time Out distribue son contenu de qualité – organisé par des journalistes professionnels – autour des meilleurs plats, boissons, musique, théâtre, art, voyages et divertissements dans 315 villes et 58 pays. Time Out monétise cette portée mondiale et sa forte audience auprès d'un public désirable par le biais de la publicité numérique et imprimée ainsi que du commerce électronique.
En juin 2016, Time Out Group a été cotée à la Bourse AIM de Londres, ce qui a permis à l'entreprise de se positionner pour la prochaine étape de sa croissance et de son développement. C'est une période passionnante alors que nous transformons cette marque emblématique en une marque mondiale de médias et de divertissement et que nous continuons à façonner l'avenir de l'expérience de la ville, tant pour la population locale que pour les visiteurs.
Time Out est une marque dynamique et pionnière, à l'image de notre équipe. Nous voulons collaborer avec les meilleurs et les plus brillants talents parce que nous travaillons pour les plus grandes villes du monde, les gens qui les apprécient et les entreprises qui s'y trouvent. En tant qu'équipe véritablement mondiale, nous avons l'occasion de collaborer avec des collègues de New York à Paris, Tokyo, Sydney et au-delà. Notre intégrité, notre passion, notre curiosité, notre créativité et notre ouverture d'esprit font de nous une équipe unique.
Role Overview
We love what we do – and it shows! Time Out Market is the division of Time Out that brings our food and cultural experiences to life for our guests, readers and clients.
Our Bar Managers take the lead in ensuring that the best of the city under one roof provides each of our guests and team members a memorable experience with each visit.
Responsibilities
Maintain the highest standards of beverage quality, guest service, cost control and consistency in accordance with company's expectations, while maintaining compliance with city, state and federal laws
Focus on succession management, training and, development of all Bar employees
Delegate responsibility to the management team as needed and enforce existing policies consistently
Oversee and participate in the hiring, training, supervision management, coaching, counseling and evaluation of all members of the Market team
Promotes organization in industry, manufacturing and/or trade associations
Work closely with the General Manager, Public Relations and Marketing teams on plans that result in optimum recognition and maximizing number of covers for the Market
Protect and enhance the value of all Market assets through appropriate programs in maintenance, security, housekeeping and through the capital budgeting process alongside with the General Manager
Process the weekly schedule and payroll for the hourly staff
Conduct pre-shift meetings and assist team members with any inquiries
Develop and implement operating standards, policies and procedures to be followed by the management team
Assign and instruct the employees in details of their work. Observe performance and encourage improvement where necessary. Ensure that the performance appraisal tools are being utilized consistently and effectively
Operate with an open-door policy, listen to and understand requests of the team, respond with appropriate actions and provide accurate information
Ensure proper inventory levels are maintained for facilitating proper bar operations, establish and enforce strict inventory controls, and participate in monthly inventory reconciliations in conjunction with the purchasing and finance teams
Make decision and take actions based on previous experience and good judgment, revising procedures as needed to accommodate unusual situations
Ensure inventory levels are maintained for facilitating proper restaurant operations, enforce strict inventory controls, and participate in monthly inventory reconciliations in conjunction with the Purchasing and Finance team
Ensure that no members of staff are permitted to work if they are not suitably dressed or groomed
Develop and implement cost saving and profit enhancement measures
Maintain positive and professional relations with vendors. Manage interaction of vendors on property with our staff
Create and execute action plans for any areas that need improvement or are in a critical situation
Maximize restaurant profitability; monitor the use of controls to ensure they remain effective
Monitor labor costs and monitor the bar's budget to ensure efficient operations, including achieving budgeted revenue and labor expenses are being met
Monitor guest satisfaction on all levels, including social media platforms
Ensure health, safety and sanitation requirements are in compliance with Department of Health, MAPAQ and ensure all managers are aware of any changes in the law
Participate in the development of the annual budget for the entire restaurant; develop short and long term financial operating plans
Participate in community events and ensure corporate social responsibility goals of venue are met
Maintain a professional, neat and well-groomed appearance adhering to Company standards
General Requirements:
Proof of eligibility to work in Canada
Education Requirements:
High School Diploma required. Bachelor's degree preferred
Working Knowledge Requirements:
Minimum of two to three (2-3) years of bar operations experience required
Above average skill in math and algebraic equations using percentage
Proficient in Windows Microsoft Office, POS systems


Skills:
Must have strong problem-solving skills
Ability to lead by example
Ability to act in a professional manner always
Ability to communicate effectively and assertively in the French and English language, both verbally and in writing with staff, clients, and the public
Ability to maintain a high level of confidentiality
Ability to write reports, business correspondence, and procedure manuals
Ability to demonstrate a positive attitude always
Ability to keep an open and objective view
Ability to listen empathetically and be respectful always
Ability to maintain composure and stay focused
Ability to maintain personal integrity
Ability to work as a team, stay organized, handle various projects at one time, follow up and make accurate decisions
Ability to handle a fast-paced, busy, and somewhat stressful environment
Ability to work under pressure and meet deadlines
Work Environment and Schedule:
The work environment characteristics described here are representative of those an employee encounters while performing the essential functions of this job. Reasonable accommodations may be made to enable individuals with disabilities to perform the essential job functions.
Small to Medium office environment
Noise level in the work environment is usually moderate. Occasionally work in an environment that is subject to varying levels of noise and crowds the severity of which depends upon Guest volume
Work varied shifts to include days, nights, weekends and holidays
About Time Out 
What we look for in a candidate
Time Out is a company filled with individuals as diverse as the cities we live in and cover. At the same time there are common characteristics and values we all share. To join our team, you'll want to…
Be commercially astute
Either have experience at or want to dive headfirst into a fast-paced transformative company in pursuit of excellence
Think globally
Have excellent communication and relationship building skills
Have a high sense of ownership, urgency and drive
Be a team player
About our culture
At Time Out Group we believe in diversity and equal opportunity for all people. We do not discriminate against external or internal candidates on the basis of age; disability; gender, gender reassignment; race; religion or belief; sexual orientation; marriage and civil partnership; pregnancy and maternity. We believe that diversity develops creativity and enables personal and professional growth where we all learn from each other. We believe in an open culture where ideas are shared candidly and where there is no fear of failure, but rather an understanding that we must experiment and have the freedom to succeed. We believe that everyone has the right to express themselves as they are as this enriches us all. We believe in an open world, social justice, and the pursuit of happiness, after all, we are in the happiness business.
About Time Out Group plc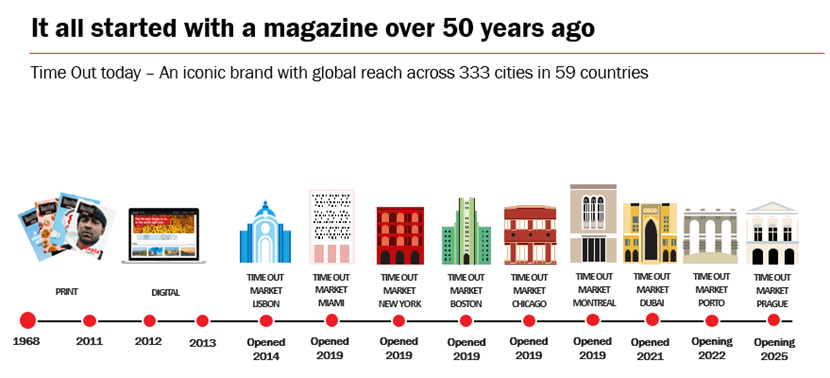 Time Out Group is a global media and hospitality business that inspires connection and joy by capturing the soul of the world's greatest cities through its two divisions – Time Out Media and Time Out Market.
Time Out launched in London in 1968 with a magazine to help people discover the exciting new urban cultures that had started up all over the city. Today, Time Out's professional journalists curate the best things to do, see and eat in 333 cities in 59 countries.
Time Out Market is the world's first editorially curated food and cultural market, bringing a city's best chefs, restaurateurs and unique cultural experiences together under one roof. From cooking classes with top chefs to installations from local artists and live entertainment, Time Out Market captures the soul of the city.
The first Time Out Market opened in 2014 in a historic market hall in Lisbon, quickly turning into the most popular destination in the city with 4.1m locals and tourists visiting in 2019. The success of Lisbon brought further expansion in North America, with Time Out Market opening in five major cities in 2019: Miami, New York, Boston, Chicago and Montreal. In 2021, Time Out Market expanded into the Middle East with Time Out Market Dubai, and more Time Out Market locations are in the pipeline including Porto, London, Prague, Japan and more.
Time Out Group was named International Brand of the Year 2021 in the Campaign Publishing Awards – awarding bravery, editorial innovation and forward thinking. While Time Out Market won the Most Innovative Food & Beverage Concept Award at the Global RLI (Retail & Leisure International) Awards 2021
Department

Time Out Markets

Locations

Time Out Market Montréal

Employment type

Full-time
Work perks
Competitive holiday / PTO allowance 🏖

Pension / 401K 👍

Complimentary tickets to events and shows 🎟

Staff socials & happy hours 🍕

Employee Assistance programmes ❤

Cycle to work schemes 🚲

Perk Box, giving you access to over 4000 perks and discounts 🎁
Workplace & culture
It's your talent that makes us what we are and we want you to be the best you can be. Our aim is to make sure our workforce reflects the diversity of our audience we serve, which is why we promise to treat you with fairness and respect, whatever your age, disability status, gender, gender reassignment, race, religion or belief, sexual orientation, marriage/civil partnership status, pregnancy or maternity status and family circumstances.
We believe that diversity develops creativity and enables personal and professional growth where we all learn from each other. We believe in an open culture where ideas are shared candidly and where there is no fear of failure, but rather an understanding that we must experiment and have the freedom to succeed. We believe that everyone has the right to express themselves as they are as this enriches us all.
We believe in an open world, social justice, and the pursuit of happiness, after all, we are in the happiness business.
Time Out Markets
·
Time Out Market Montréal
Bar Manager Montréal
Loading application form
Already working at Time Out Group Plc?
Let's recruit together and find your next colleague.